Big Blue United Official 2014 Mock Draft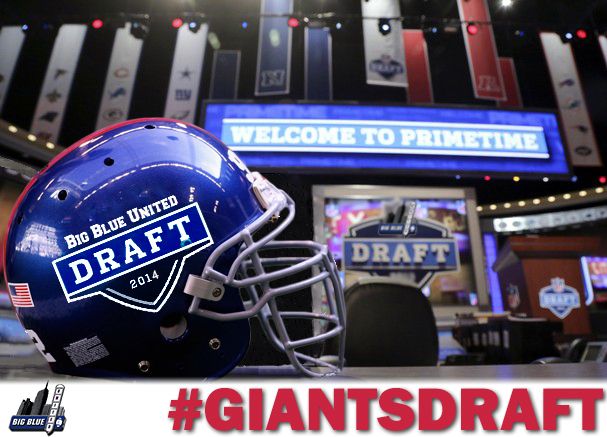 By Ian Taubin – Big Blue United 05.05.14
---
1st Round (12): Zack Martin / OT /Notre Dame
Zack Martin might be the safest pick in the 1st round of the NFL Draft after Jake Matthews. Martin can play either OT or OG. If the Giants draft Martin as an OG, he could be an instant Pro Bowl caliber Guard in the NFL. Snee is likely in his last season and Martin could be his replacement after 2014. Wouldn't it be nice to replace (arguably) the best OG in Giants history with a player that could be a future All-Pro? Martin is a 2x Team Captain.
---
2nd Round (43): Troy Niklas / TE / Notre Dame
Tom Coughlin's favorite quality about TE's is reliability. Niklas is arguably the most reliable in-line blocking TE in the NFL Draft. He also happens to have fantastic hands in the receiving game. At Notre Dame, he was not used heavily as a receiver, but his potential in the receiving game is limitless. There are not many all-around great TE's in the NFL right now, and Niklas has the potential to develop into one of those players.
---
3rd Round (74): Travis Swanson / C / Arkansas
Swanson has the makings of a future Pro Bowl Center in the NFL. He has a fantastic skillset and will immediately bring leadership into any locker-room. Not many players are 2-time team captains during their college careers, but Swanson has that "it" factor.
---
4th Round (113): Brandon Coleman / WR / Rutgers
Coleman has incredible size (6'6", 225 pounds). His big play potential reminds me of a former Giants WR who made spectacular catch, after spectacular catch. No I am not talking about Ramses Barden. Coleman has a very similar skill set to Plaxico Burress. Coleman is also a willing blocker in the run game. He will likely need time to develop as a reliable every down WR. If drafted, I expect Coleman to be used sparingly in his rookie season, but as he develops, he can become a big time weapon for Eli Manning in the Red Zone.
---
5th Round (152): Adrian Hubbard / OLB-DE / Alabama
Hubbard has great size at 6'6" 257lbs. He can play OLB in the 3-4 or DE in the 4-3 defense. His ability to leverage the edge and defend the run is what makes him a very attractive DE for the Giants. He doesn't have elite speed, and has areas to improve upon with his pass rush skills, but the arrow is pointing up for Hubbard on his potential to be an all-around DE in a 4-3 defense in the NFL.
---
5th Round (174): Tyler Gaffney / RB / Stanford
Gaffney is the type of player that thrives on proving people wrong. Scouts said he was too slow and was getting caught from behind on game tape. Not only did he not get caught from behind in the open field, but he ran a 4.49 40, the 9th best time of all RB's at the Combine. He is the type of player that will make you work to bring him down, and on many occasions, it would take at least two defenders to do so. He also happens to be a very solid pass protector too, giving up his body to keep the QB clean. One area to improve upon is receiving out of the backfield, as there are moments when Gaffney loses focus and drops catchable balls out of the backfield.
---
6th Round (187): Kevin Pierre-Louis / OLB / Boston College
Pierre-Louis is arguably the most versatile and athletic LB in the NFL Draft. At the NFL Combine, he had 28 bench press reps (tied for 3rd of all LB's), 4.51 40 (fastest of all LB's), 39-inch vertical (3rd amongst all LB's), 10'8″ Broad Jump (2nd amongst all LB's), 4.02 20 yard shuttle (2nd amongst all LB's).  His best ability may be tackling in open space. Pierre-Louis is an undersized LB, who looks more like a safety. He is a leader on the field that coaches can trust to be a good decision-maker. Two-time team captain.