Big Blue United Official 2013 New York Giants Mock Draft
Alabama RT DJ Fluker
AP
By Ian Taubin – Big Blue United 4.20.13
MOCK DRAFT BREAKDOWN:
Round 1 Pick 19: DJ Fluker, OT Alabama
The New York Giants are in an interesting position going into the 2013 NFL Draft. They have filled most of their starters for 2013.  However, one starting position that is currently still open is Right Tackle. David Diehl and James Brewer are currently competing for that spot, but I don't think either player is a good option for 2013.  The Giants have a new starting RB, David Wilson, and I have gone on the record saying that if David Wilson had a great offensive line, he would not only develop into a "good player", but he could become an All-Pro. His combination of speed and versatility is tremendous.  Adding DJ Fluker, who is arguably the best run-blocking RT in the NFL Draft, would be a huge pick for Big Blue.  Fluker could solidify the Tackle position with Beatty for the next 5 seasons or more.  If Wilson has the chance to take a sweep to the right with Snee and Fluker as his lead blockers, the possibilities could be endless.  (Photo Credit, Cal Sport Media)
DJ Fluker is exactly what people think he is, a Right Tackle.  The only reason he is not expected to be drafted in the Top 10, is because most analysts believe he cannot translate into a Left Tackle.  The real question lies with Jerry Reese. We all know that Jerry Reese will take the Best Player Available on his board regardless of position.  Do I think Fluker could be the BPA at pick #19? No question about it!  This is just one of many ways that Reese can go with his first selection, but this would be a tremendous value pick at #19 for Big Blue.
2013 NFL Draft Profile: DJ Fluker

ESPN Sports Science: DJ Fluker

Player Analysis:
STRENGTHS: Powerful run blocker. Fluker's combination of size and power make him a formidable prospect who should only get better with time. While he disappointed scouts by electing not to participate in the Senior Bowl (citing lingering calf & groin injuries), Fluker's incredibly impressive frame left scouts drooling. Despite weighing in 20 pounds heavier than he'd been listed at Alabama, Fluker showed impressive overall weight distribution, long limbs (including 36.38″ arms) and shockingly little flab in his middle. His powerful hands. are capable of latching on and controlling pass rushers. He is a passionate player who was regarded as a emotional leader for the Tide… For a drive-blocking, power-based scheme, Fluker ranks as the top right tackle prospect in the draft. (CBS Sports)
WEAKNESSES: At his size, Fluker is strictly a right tackle or perhaps even a guard prospect as he hasn't demonstrated the agility or balance necessary to handle NFL speed rushers on a consistent basis. Even as a run blocker — his specialty — Fluker has a tendency to drop his head and stop his feet as he makes contact, resulting in some of his more talented opponents being able to disengage. (CBS Sports)
Round 2 Pick 49: Datone Jones, DE UCLA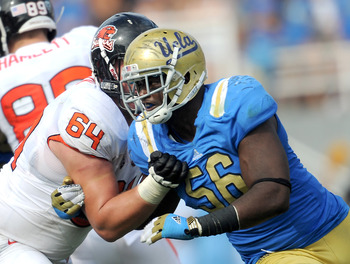 Whether Giants fans want to admit it or not, Big Blue is losing a major asset to their 2013 team in DE Osi Umenyiora.  When former Giants GM Ernie Accorsi stated that, "You can never have too many pass rushers", he was 100% on the money.  The success of the Giants defense is predicated on the success of its Defensive Line.  The 2013 season will be no different. With Umenyiora gone, the Giants will have to find a replacement, while working back up to the level they performed at during the end of the 2011 season en route to the Super Bowl.  Mathias Kiwanuka is expected to return to his original Defensive End position, which I expect will provide a huge boost for the team.  However, Justin Tuck is on the last year of his deal and there is no telling if he will be back in 2014 (or beyond).  Adrian Tracy and Adewale Ojomo are unproven players that are expected to get more opportunities in 2013.  (Photo Credit, Jayne Kamin-Oncea/US Presswire)
With all of that said, the Giants need to find some consistency at Defensive End in 2013 that they can build off of in later seasons.  Drafting a Defensive End in the 2013 NFL Draft could provide that much-needed depth.  Datone Jones happens to be a player that I have followed for quite some time and I think he could be a major steal in the Draft.  He has a great combination of size and strength.  For a Defensive End of his size, Jones is rather quick on his feet.  His tremendous strength is something the Giants have not had at DE since Michael Strahan and it could provide a nice change of pace from JPP, Tuck and Kiwanuka who all play the position differently.  Given the right opportunity, Datone Jones could prove to be the future starter for the Giants opposite Jason Pierre-Paul.
Player Analysis:
STRENGTHS: Well-built athlete with long arms and good strength, throughout. Flashes an explosive initial burst off the snap to penetrate gaps. Uses his hands well at the snap to rip free from blocks, showing a variety of pass rush techniques (swim, rip, club), as well as enough power to simply bull over offensive linemen into the backfield.
Keeps his head up and locates the football quickly, showing good awareness and effort in pursuit. Stout enough to slide inside to defensive tackle, especially on obvious pass rush downs. Enjoyed a breakout senior campaign and may be just scratching the surface of his potential. (CBS Sports)
WEAKNESSES: A classic 'tweener who until his senior season hadn't ever lived up to expectations. Lacks the bulk to handle full-time duties as a traditional defensive tackle. Has a tendency to stand up as he comes off the ball, losing out on the leverage battle. Uses his hands well initially but tires quickly and struggles to disengage once his opponent has locked on. (CBS Sports)
Round 3 Pick 81: Leon McFadden, CB San Diego State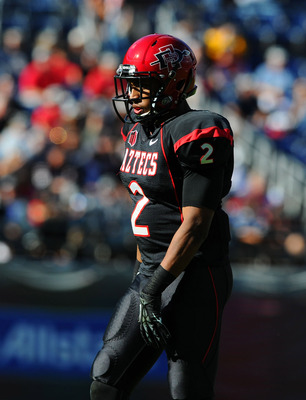 In the new pass-happy NFL, Cornerbacks seem to have a premium value.  For the Giants, that value is not as high as most teams, since their defensive makeup relies more heavily on their D-Line.  With that said, the Giants secondary led by Corey Webster (who incidentally had the worst season of his career) had issues working as a unit last season.  However, 3rd round draft pick in 2012, Jayron Hosley's rookie season showed that he could be a factor for the Giants moving forward. He will have every opportunity to garner a ton of playing time for the Giants in 2013 and beyond.  The most consistent and best CB in the Giants secondary is Prince Amukamara.  The main thing that could prevent Amukamara from becoming a Pro Bowl caliber Cornerback are injuries, which is something that has plagued the Giants in the secondary for many seasons.  The bottom line is that the Giants are in need of additional CB help. Webster and Ross are likely going to be gone after 2013, leaving Amukamara and Hosley left on the roster.  Leon McFadden seems to be flying under the radar in the NFL Draft.  Playing in the Mountain West Conference, McFadden proved that he has enormous potential in the NFL.  At 5'10" he is a little undersized for a premiere CB, but that hasn't stopped him from earning 3 straight 1st-team All-Mountain West honors at Cornerback.  He can play in any situation that is asked of him and could immediately help any NFL team on Special Teams, something the Giants value highly. (Photo Credit, USA Today Sports)
NFL Combine Highlights: http://www.nfl.com/videos/auto/0ap2000000154041/2013-Combine-workout-Leon-McFadden
Player Analysis:
STRENGTHS: Fluid feet, hips and joints to quickly change directions and stick with receivers up and down the field. Natural speed to cover vertical routes and recover after false steps. Aggressive with the ball in the air and won't concede anything thrown his way. Natural instincts with a knack for always knowing where the ball is located. Plays the position with a fearless demeanor to bait throws and takes chances in coverage. Good chase skills and plays fast in pursuit, only knowing one speed. Solidly-built and has better functional strength than expected. Very strong resume with excellent experience and production. Already has strong practice habits and a pro demeanor. (CBS Sports)
WEAKNESSES: Struggles to always get a good jam at the line of scrimmage, which gives him some issues in recovery. His size gives him some issues against bigger, more physical wide receivers. A bit gun shy in handling blocks from lineman in the screen game. Doesn't wrap up, often times attempts the cut tackle, which won't always be effective against stronger, more elusive NFL ball-carriers. (NFL.com)
Round 4 Pick 113: Brian Winters, OG Kent State
Signing Kevin Boothe was a big deal for the Giants for 2013, given their lack of depth at the position. Looking down the road, the Giants might be in need of additional offensive guards as Boothe may leave after 2013.  Chris Snee, who is arguably the best Giants Offensive Guard in their history, has had injury issues over the past few seasons and has contemplated retirement because of those injuries.  Snee's contract also happens to expire in 2014. Right now there is little to no depth behind Boothe and Snee.  If the Giants find a RT in the draft or fill that need elsewhere, David Diehl could become a utility offensive lineman in 2013. (Photo Credit, AP)
Brian Winters played Left Tackle at Kent State, but is expected to slide over to Offensive Guard in the NFL. As a former wrestler in high school, Winters is very good at the point of attack despite his trouble with speed rushers, which is part of the reason for the potential move to guard in the NFL.  His experience playing tackle in college can be an asset for Tom Coughlin in case of injuries down the road.  Winters has very good size and would fit in very nicely on the Giants offensive line.
2013 NFL Draft Profile: Brian Winters

Player Analysis:
STRENGTHS: Finishing plays is not an issue, steps out to attack his man quickly after the snap, latches on like he's beginning a wrestling match, and then keeps his legs moving to sustain. Throws smaller ends to the ground if they let up as the whistle blows. Plays with a wide base and the natural flexibility to drop his hips in pass protection, yet has the foot quickness to mirror on the outside and maneuver himself into an inside position while engaged. Fires off the ball in short-yardage situations despite his height, and churns his feet moving to move the pile. Effective combo blocker, as well, as he can seal the tackle and then negate a linebacker using his length and quickness. (NFL.com)
WEAKNESSES: Occasionally gets pushed off-balance and thrown aside by stronger opponents, and might be susceptible to veterans ripping down because he likes to latch on up top instead of keeping his head up and arms extended. Stops his feet while punching, allowing ends to get the inside lane or turn the corner. (NFL.com)
Round 5 Pick 145: Gerald Hodges, OLB Penn State
The Linebacker position has caused a lot of debate amongst Giants fans. Since Jerry Reese has been GM of the Giants, he has not put a high value on Linebackers as much as he does the rest of the defense.  Giants have won their last two Super Bowl's with below average LB's.  Reese spends his money on the D-Line first and foremost as that is the most important area of the Giants defense.  Hopefully some of the young Linebackers on the Giants roster (such as Paysinger and Herzlich) can step up this season, but that will not prevent Reese from continuing to rebuild the linebacking core.
Gerald Hodges could fill a gaping hole in the Giants roster with his speed at the Linebacker position. Currently, Jacquian Williams is the only LB on the roster with that quality for Big Blue.  Hodges has a good eye when it comes to dissecting plays and takes very good routes to the ball carrier.  Hodges has the potential to go as high as the 3rd Round in the Draft according to reports. (Photo Credit, Lions 247)
2013 NFL Draft Profile

Player Analysis:
STRENGTHS: Former safety with short-area quickness to handle coverage responsibilities on multiple levels. Stays with running backs and tight ends in man coverage, comes off one target in zone to lay a hit on the underneath route. Flashes downhill speed to wrap up ball-carriers or force them into decisions. Active hands when engaged, willing to be physical. Works through traffic to the ball in tight quarters. Stays with receivers on short outs, can knock away the pass without interfering. (NFL.com)
WEAKNESSES: Has only average bulk and length to take on NFL-sized linemen and tight ends. Does not consistently take advantage of interception opportunities. Lunges and fail to break down in the open field at times so more elusive ball-carriers can avoid him. Needs to prove himself a capable blitzer, doesn't beat blocks consistently to force quarterbacks into making throws. Will get locked onto blocks, doesn't always play with proper leverage. (NFL.com)
Round 6 Pick 177: Earl Wolff, SS NC State

The Safety position was in transition during the 2012 season when Kenny Phillips went down with an injury and Stevie Brown took center stage.  Kenny Phillips is now in Philadelphia after signing a one year contract with the Eagles and Stevie Brown will take over full time as the starting SS in the Giants secondary.  Will Hill is a player to keep an eye on in 2013 as he looks to take a big leap in 2013 and become a major factor in the Giants secondary.  Antrel Rolle, not so quietly, became the leader of the Giants defense in 2013 and isn't going anywhere.  Tyler Sash is still on the roster, but has not shown much in his short NFL career so far.  There is room for depth at the safety position and Earl Wolff could be a great addition.  Wolff excelled at NC State, earning 1st team All-ACC honors this past season.  Wolff hits very hard for a player that is undersized.  I expect him to bulk up a little bit as he transitions to the next level.  Learning under Antrel Rolle would be a huge asset for any player coming into the league.  Wolff would most likely have a role on special teams in his rookie season as he adapts to the NFL. (Photo Credit, NC State Athletics)
Player Analysis:
STRENGTHS: Solidly built defender able to make plays against the run and pass. Physical tackler coming downhill to attack ball-carriers, not afraid to bring intensity to the stop. Diagnoses and attacks. Breaks down quickly and wraps up the legs of receivers effectively to bring them down quickly after the catch. Uses relentless hustle to reach plays, even if on the opposite sideline. Flashes quickness to move from two-deep to a single-high look after the snap, as well as pick up vertical routes and stay with receivers in deep coverage. Displays sound footwork and technique in coverage. (NFL.com)
WEAKNESSES: Only average height for the position. Stronger backs can run through his tackles, especially when he leaves his feet. Fails to make the more difficult interception where he needs to go low or extend from his frame to bring in the ball. Must prove himself able to get off blocks when playing around the line of scrimmage. (NFL.com)
Round 7 Pick 209: Miguel Maysonet, RB Stony Brook
Giants lost one of their heart and soul players and leaders on the field when they released RB Ahmad Bradshaw in this off-season.  David Wilson and Andre Brown are expected to share the load in the 2013 season.  Da'Rel Scott is still on the roster and will do everything in his power to take the #3 RB spot this season.  He will be competing against Ryan Torain, who joined the Giants towards the end of 2013.  Torain will now have a full off-season to learn the system and will get every chance to earn the #3 RB job as well.  Even though the Giants have Scott and Torain competing for the #3 RB spot, Big Blue is expected to either sign/trade for a veteran RB or draft one in the middle to late rounds of the 2013 NFL Draft.  To me, this is an easy choice for the Giants.  (Photo Credit, Kathleen Malone-Van Dyke)
Miguel Maysonet instantly brings the fire and intensity that Ahmad Bradshaw brought when he was drafted in the 7th Round in 2007. Going to a small school is one reason that Maysonet is projected to drop to the later rounds of the draft.  The other main reason is his height. At 5'9" Maysonet is on the smaller size.  However, Maysonet has a ton of potential as a well-rounded RB coming into the NFL.
71 yard run vs. Syracuse

Player Analysis:
STRENGTHS: Sees snaps from single back, I formation, and pistol. Decisive up-field cuts to continue forward momentum. Sees front side lanes even if run calls for different gap. Determined runner, little wasted movement, makes a choice and sticks to it. Refuses to go down on first contact, takes some big hits because of it. Patient on zone read and sticks with mesh point. Always churning his legs, that's his best quality, never stops. Protects the football confidently and absorbs contact. Has enough long speed to sustain. (NFL.com)      
WEAKNESSES: Runs a bit upright, arms flailing to keep balance on occasion. Rarely looks back side for cut back lanes. Eyes can be bigger than stomach in terms of hurdling tacklers in the open field. Does not possess breakaway speed. Lacks creative quickness to create when stopped behind the line of scrimmage. (NFL.com)                                
Round 7 Pick 253: Vince Williams, MLB Florida State
In the 7th Round, teams look for diamonds in the rough. Vince Williams played with a bunch of fantastic NFL Draft prospects this past season including Xavier Rhodes, Bjoern Werner, Cornellius Carradine, and Brandon Jenkins.  Williams had a very successful season with FSU in 2012, as he was invited to the North/South Game. (Photo Credit, Chiefconcerns.com)
Williams has a knack for finding the ball as well as having a solid initial burst against the run. His main flaw is in coverage as he sometimes loses track of his man.  However, this is something that can be fixed with good coaching at the next level.
The biggest factor that Williams has going for him is that he was the team captain on a team with such great talent this past season.  Jerry Reese wants leaders on his roster and Vince Williams fits the bill.  In the 7th Round of the 2013 NFL Draft, I believe the Giants should take a shot on a player that from day one, will come in and give it his all and not be afraid to leave it all on the field.
Player Analysis:
STRENGTHS:
Aggressive run defender who isn't afraid to "shoot his gun" and attack the ball. A quick accelerator who can close on the ball. Generally a reliable open-field tackler and flashes an explosive pop. Plays the game angry, showing some nastiness as a tackler. Possesses a short, stocky frame that and good upper body strength, which allows him to take on blocks and, if not break free from them, at least hold up the action, helping to create a pile. (CBS Sports)
WEAKNESSES:
A step slow in diagnosing the action. Often is sucked towards the line of scrimmage on play-action, leaving himself vulnerable. Has only average straight-line speed for the position and can be beaten to the edge and in coverage. A bit stiff in his upper body, providing too many glancing blows of the ball-carrier rather than striking him head-on. (CBS Sports)
==================================================================================
2013 NEW YORK GIANTS MOCK DRAFT
Round 1 Pick 19: DJ Fluker, OT Alabama
Round 2 Pick 49: Datone Jones, DE UCLA
Round 3 Pick 81: Leon McFadden, CB San Diego State
Round 4 Pick 113: Brian Winters, OG Kent State
Round 5 Pick 145: Gerald Hodges, OLB Penn State
Round 6 Pick 177: Earl Wolff, SS NC State
Round 7 Pick 209: Miguel Maysonet, RB, Stony Brook
Round 7 Pick 253: Vince Williams, MLB Florida State